Kenny Kidd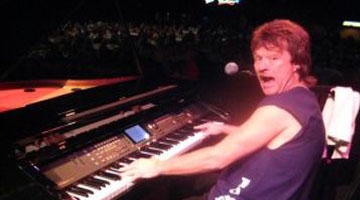 Date
September 25 & 26, 2015
Cost:
Free Admission
Friday, September 25, 2015
9:00pm
until 2am
Saturday, September 26, 2015
9:00pm
until 2am
Traveling the US with grand piano in tow and an all female band backing him , Kenny Kidd's high energetic show is packed with excitement... Kenny's vocals, his honky-tonk piano playing, the harmonies and musicianship of the chicks behind him has his audience wanting more. Kenny's touring schedule is increasing relentlessly. He is playing casinos, clubs, fairs, motorcycle rallies, and car shows.

Kenny has toured the U.S. as a headliner and as an opening act for major artists, such as Merle Haggard, David Allen Coe, T. Graham Brown, Jeff Cook, Jerry Lee Lewis, Waylon Jennings, Hank Jr. and Little Richard among others. Born in Arkansas, Kenny grew up loving music. It was here that he developed his musical tastes and interests.

His first foray into learning an instrument himself came when he started playing guitar at the age of 14.. It wasn't until Teddy Riedel came to tune the family piano that he took interest in the 88 keys. The development of his unique style is the result of listening and picking out piano parts off of his moms records, a decision which he never looked back from. Kenny's love for music, his sheer ability to entertain a crowd and connect with his audience is what it takes to make his show one you will not want to miss.