Win Cash Prizes for Eating Ribs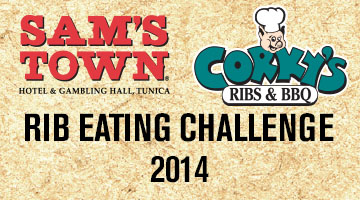 Date:
August 30, 2014 1:00pm
Location:
Cost:
$50 Entry Fee*
Register Today
For more information and to reserve your space call 800-456-0711 ext 46011
Think you can eat more ribs than anyone else?

$5,000 in cash prizes are up for grabs during the 2014 Rib Eating Challenge, August 30, 2014 in the River Palace Entertainment Center sponsored by Corky's® BBQ and Sam's Town.

Prizes:
1st Place $2,500 4th Place $500
2nd Place $1,000 5th Place $250
3rd Place $750 6th - 10th Place $100 Slot Dollars

You'll definitely want to bring your friends out on the town for this event! We'll have Corky's® BBQ and drinks including a full bar for sale during the Rib Eating Challenge.