$50,000 Open Slot Tournament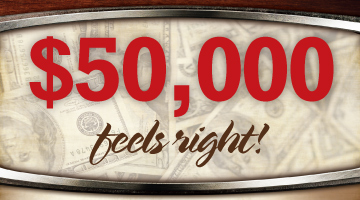 Date:
March 14 - 15, 2014
Location:
Cost:
$200 Buy In $100 Re Buy
Friday, March 14, 2014
3:00pm
Registration until 8pm
Saturday, March 15, 2014
11:00am
2nd Round begins
It's time to play some slots for a first place prize of $25,000 CASH! Your buy in includes a two night hotel stay. And there's cash prizes through 100th place!
Friday, March 14, 2014
Registration 3:00pm - 8:00pm
First Round 9:00pm (1st round must be played Friday, March 14, 2014)
Space is limited so reserve today and get ready for two days of fun tournament action!